It's hard to believe it is that time of year already. With the holidays a little over a month away, now is the time to start planning and starting your Christmas shopping. We put together a gift guide to help you with your shopping list this holiday season.
The holiday season always seems to make our lives even busier and at times stressful.  Its a constant running from place to place, party to party, all while trying to figure out what to gift all of the people on your list.  We wanted to help make your Christmas Shopping less stressful this year by sharing with you a few of our favorite items to gift from Ferne this year.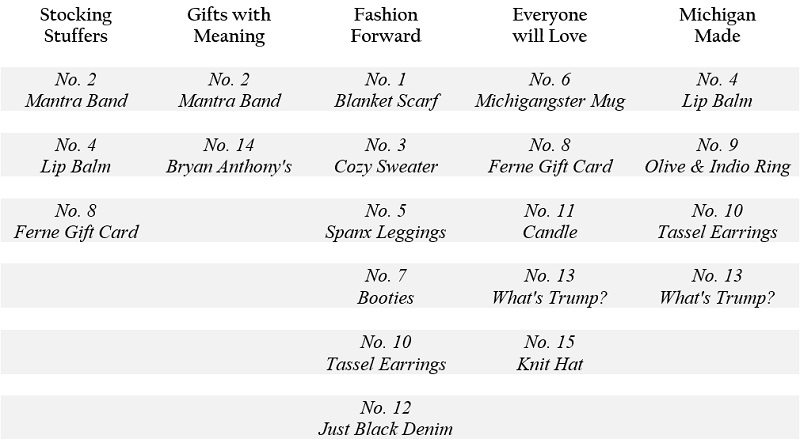 I don't know about you, but emptying my stocking is one of my favorite parts about Christmas morning, some of the best treasures can be in there. Winter weather is in full swing here in Michigan, you can't make it through without a chap stick and lotion in every purse.  Our Kenna Nicole balm is a must.  Its made in Michigan, all natural, and can be used as a lip balm, for your cuticles, or for chapped hands.  Trust me, your daughter, wife, girlfriend...whoever, would be ecstatic to pull out a gift card to Ferne.  That means they can go on a little shopping spree, what girl doesn't love that? 
There is nothing better than giving a gift with meaning.  Both the Mantra Band bangles and Bryan Anthony's necklaces all have beautifully written meanings with each piece.  Find the perfect saying that reminds you of that one special person on your list this year.  This adds that personal touch to a gift that anyone will cherish.
All of the items in our gift guide are under $100 except for the Spanx leggings.  But believe me, they are well worth the investment.  First of all they are Spanx, so you know the quality is amazing and they will last.  They are also super comfortable and flattering since they simultaneously act as a shape wear.  They style perfectly with oversize sweaters and booties.  The fashion forward gal in your life will absolutely love them!  
Looking for a gift add on or shopping for that one person on your list your can't figure out what to get?  We've got you covered.  We have an amazing selection of candles that not only smell fabulous, but they are in cute holders and tins.  All of the Michiganders on your list need the ceramic Michigangster mug, it doesn't disappoint.  Also, if you're from Michigan you know that family gatherings just aren't the same without a friendly game of euchre.  There is always that one person who can't ever remember what trump is, you need to get them the What's Trump Block. Give a gift anyone will love!
Last, but definitely not least, support your local makers this holiday season.  At Ferne we are happy to carry several products from local artists around Michigan, including several jewelry lines.  Olive & Indio is based out of Mt. Pleasant, it is an amazing line of mineral and copper jewelry.  We carry her electroform rings, each piece has a unique gemstone on it. Hand pick the perfect ring for that special person on your list.  We also carry a bomb line of earrings that are all the rage right now.  Jamie Ry makes beautiful tassel earrings.  She uses a unique mix of colors to create loop and tiered tassels.  Stop in to the store to see what other Michigan made products we carry!
We hope our gift guide will help you with your Christmas list this year.  Stop in to our Bay City and Detroit stores and let us help you find the perfect gift!  Thank you for shopping small this holiday season!