Denim dates back to the late 1800's, and it stuck ever since.
Who would have thought the same fabric would look so great from pants to hats? Denim has come a long way. We see it everywhere now from our jeans, dresses, accessories, to home decor. This is classic style, it won't ever fade away. Here are a few of our favorite denim pieces.
Jean jackets for the win! Seriously, a jean jacket is a must for your wardrobe. It pairs perfect with black, grey, olive, or any color jeans. Dress it up with a skirt and blouse for work. Throw it on over a plaid or graphic tee for a casual look for a day out shopping or a night out with friends. We styled this grey distressed jacket with a basic tank and giving key necklace. A unique denim jacket with holes and fray hem detail. You truly can't go wrong with a jean jacket. This is a piece that will last you for years.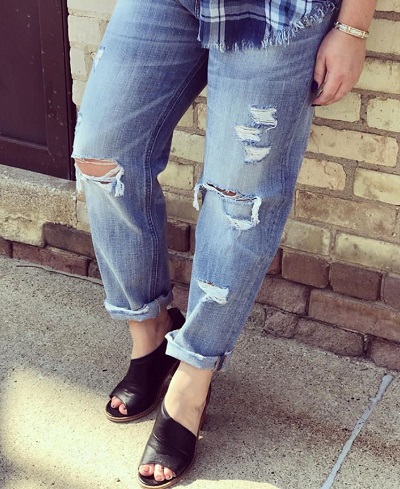 You can't have too many jeans. There are endless colors, fabrics, detailing, and styles. If you haven't tried a pair of boyfriend jeans yet, I assure you, you are missing out. They have the perfect amount of slouch, and are so comfortable you will want to live in them. We styled our distressed boyfriend jeans with a plaid top and slip on heels. Jeans give you the comfort you need without looking under dressed. Dress them up with the right shoes and top. Check out our selection of denim in store and online.
What are your favorite denim pieces in your closet?