Whelp, Michigan finally got it's shit together. Warmer weather is here people!
You all know what warmer days mean?! Yeap, sundresses and jumpers!  'Tis the season for cute prints and bright colors.  We have so many new spring arrivals coming in and we cannot be controlled.  Here are a few of our spring styles featured on two local blogger babes.
I know some of you aren't up for trying jumpers, but you should really give them a chance.  Not only are the fricken adorable, but they are so comfortable and airy.  Plus, its a bonus that your outfit is basically complete in one piece.  It is effortless and looks so chic. This stripe jumper has adjustable straps which is perfect for you ladies who have a longer torso and don't want the dreaded camel toe front it riding up.  This has tie detail at the waist to help create the perfect waistline.  Plus, it has amazing back details.  All in all this is the perfect jumper to style with heels and a moto jacket for a night out or even to a wedding.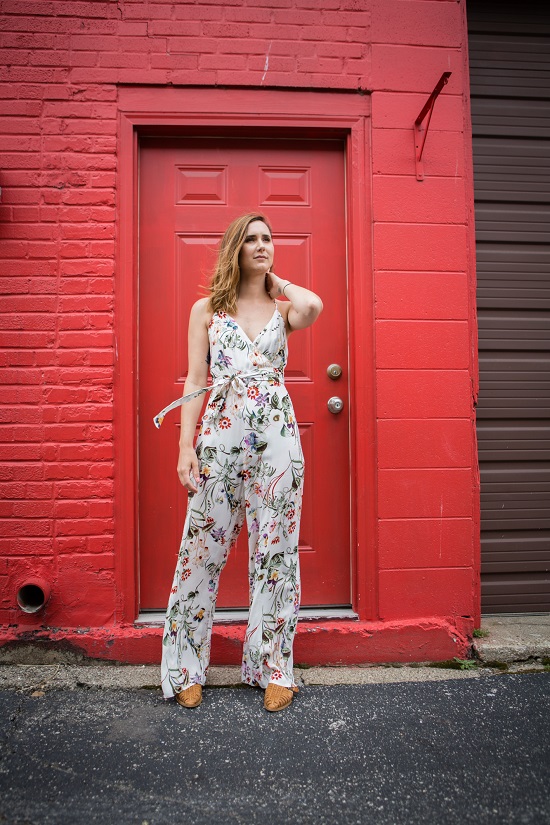 As if the stripe jumper wasn't perfect enough.  This white floral jumper is absolutely breathtaking. The bright floral print accented on the white makes for the perfect spring feel.  Style it with simple accessories and a nude heel.  The perfect look for a wedding, or even a day out with the girls.  You really can do so much with either of these jumpers.
Seriously, the most beautiful maxi. EVER.  The monstera leaf print is the perfect touch.  This maxi features a high neck with a front slit detail.  This maxi will make your feel like you're somewhere tropical everytime you wear it.  The perfect vacation dress or dress for a summer bridal shower.  The open back details make this dress that much cuter.  Don't miss out on this little number, snag it before its gone!
Mustard has to be one of the most beautiful colors.  It is fun and bright while still being a neutral color.  This wrap style maxi is a must for spring and summer weddings.  It has a fun aztec print and short flowy sleeves! This maxi also comes in a beautiful sage green color.  You really can't go wrong with either color. 
Head on over to our site and shop all the other spring styles!