Posted on
By Alex Kuch
Posted in Basic tee, Camo, Cardigan, Day-to-night, dress, Good Vibes, Jumpsuit, Layers, Leopard, Spring, Stripes, Weekend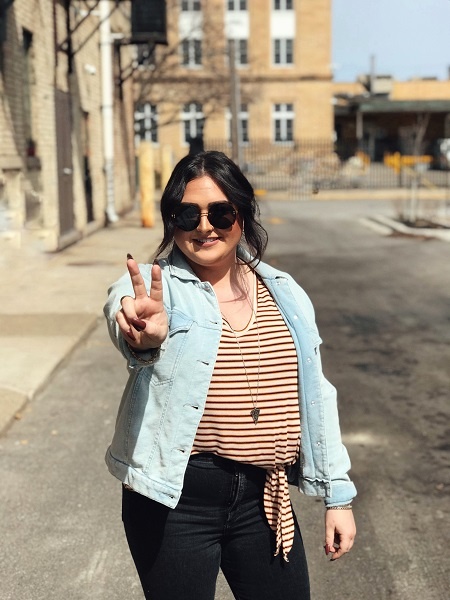 It's Friday y'all! You know what that means?! The weekend is finally here!
We're not letting the dreary weather outside get us down.  Friday is here, and so are the spring arrivals.  We styled a few of our favorite day-to-night weekend looks.
Okay, seriously how perfect is Paige in this look?!  This dress is all about the details.  It is rust with a multi color dotted print.  There is elastic at the waist creating the perfect a-line silhouette.  This dress is the perfect to transition from a day at the office to a night out with the girls.  Style it with black heels or flats for work -> slip on a pair of booties and a moto jacket for the evening. 
I don't know about you, but I don't think you can ever go wrong with a cardigan.  It is the perfect staple piece to throw over any top or dress to complete a look, or simply add a layer of warmth.  Spring calls for all the layering pieces, because you just really never know what the weather will be like.  
We just got in this amazing, blush cardigan.  It is the perfect weight for spring and summer.  To make it even better it has small, multi color funfetti details in it.  This cardigan is perfect styled open over a graphic tee with high waist denim.  Or button it and layer over a bralette with white denim and mules for a cute, casual everyday look.
This look is just what you need for a rainy spring day, weekend outfit.  You can't go wrong with camo.  This jacket layers perfect over the striped, side knot ZSupply tee. You can style this jacket year round, which makes it that much better. Mixing prints have never looked so good.  This casual look is perfect for a day out with the girls, or even just running errands.  Snag this jacket before its too late!
Closing off our weekend looks with this amazing, gold jumpsuit.  This jumper is beyond comfortable, it is a knit and super relaxed.  We styled it with a belt at the waist, to cinch it in and create more shape.  To complete the look throw on a mule or a sandal with a statement bag.  This leopard bag is the perfect, on the go weekend bag.  You can fit everything, and anything in it.  Style this look for a weekend getaway, a night out, or just a comfortable everyday look.
Do you have plans this weekend? Do you still need the perfect look for your night out? Or do you simply just want a spring refresh?  Stop in and shop these looks in Bay City, or online anytime!